Taking on a global perspective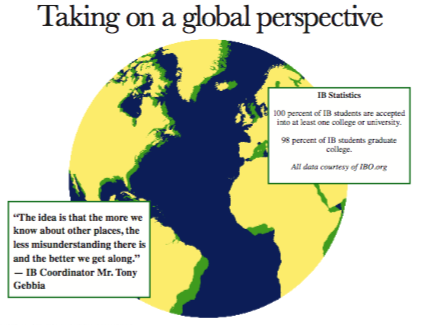 Spring Valley's transition into an International Baccalaureate (IB) school has opened the eyes of students and teachers on a global scale since its inception this year. The original purpose of the IB program was to create a high school diploma that would be recognized for college admissions all over the world. Though this was the first step of globalization at Spring Valley,  the program has also prepared students to work in an international market and emphasizes the importance of acceptance and diversity.
"The idea is that the more we know about other places, the less misunderstanding there is and the better we get along," IB Coordinator Tony Gebbia said.
The IB diploma assists with global education by giving students a choice of education anywhere in the world. The diploma would be received in addition to the advanced honors diploma.
IB's motto is "building a better world through education." SV teachers hope to achieve this by  encouraging students to explore and study other cultures not only by reading world literature, but even in their math and science classes, to better understand people around the world.
"Everyone has their own perspective, but they are just as right in their position as you think you are," Gebbia said.
The benefits of understanding cultures from a global standpoint and an IB degree are the many available career opportunities  due to technological innovations and growing economic markets, Gebbia said. These growing markets would mean career opportunities for IB graduates in other parts of the world. Countries such as South Korea have had  substantial growth in their economy, due to technological innovations– leading to many new job opportunities. Having a diploma that is accepted worldwide allows future employees many more opportunities both at home and abroad.
"It would really give you the edge and set you apart from other foreigners coming to the country and trying to get the same job as you," said IB freshman Bridget Reichel.
Reichel aspires to move to France and attend the University of Paris to study creative writing and become an author.
Global acceptance is another huge part of internationalization. The IB mission statement recognizes the importance of not only tolerating people, but understanding them as well. The philosophy looks at where people are coming from, whether it be racial, cultural, or gender specific.
"One of the things that the school is working on is that our teachers will focus on teaching the content, but also make sure to incorporate other IB ideas, such as compassion to help better the students' mind, according to Gebbia.
Something that Spring Valley already values is kindness, so the aspect of understanding everyone and accepting everyone ties into IB.
"It's all about supporting one another, not competing with each other," Gebbia said.
Leave a Comment