Call of Duty: Black Ops III releases "Salvation" map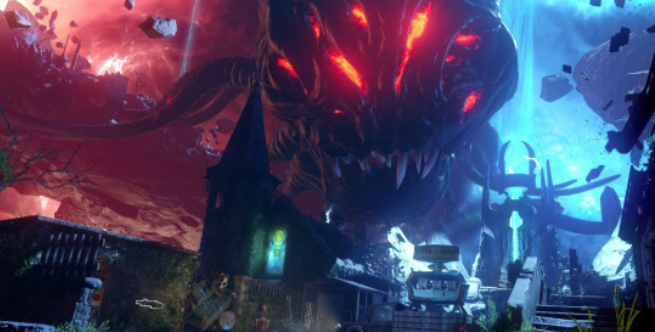 The new map "Revelations" released September 6 ,2016 as apart of the DLC4 Zombies Map Pack in the download- able content (DLC) 4 for Call of Duty: Black Ops 3. Call of Duty is a first person shooter that started with the origin of Call of Duty released October 29, 2003. This game includes a variety of maps to play on in multiplayer, and offline. This includes maps from CoD: World at War, CoD: Black Ops 3 and, of course, CoD: Black Ops 3. When you spawn into this map you'll see the sky is corrupted and certain maps are messed up. The setting is great, based on the backstory of where the concept of the map came from. The graph- ics are phenomenal, and are looking their best!
Reyarch and Activision have made a game that looks realistic. This is one of the reasons millions of people play. As far as gameplay goes, the overall game runs smooth, shows great movement, and has great quality. For the weeks and months that group of friends has played this game, they haven't run into any bugs or glitches in this map. Although you tubers that play PS4 reported out of map glitches, so people have been trying this out, and from this one glitch, many more have been found, and many more are being found.
The new weapons added into this map are amazing. Trey arch brought back guns from Black Ops, and have included newer weapons from Black Ops 3. In the map there are certain locations where you can find a mystery box that gives you a random weapon when you buy it. In this map you can get the Thunder-gun and Ray gun Mark II from the box originally introduced in Black Ops. There are more special weapons in the box and seems like a great modification
Rupture includes a piece of the zombies map in the multiplayer edition, but looks different in their own modes. Micro is a map that is based on a picnic area, and requires players to run around the area. Outlaw depicts a town totally destroyed by war. There are various buildings destroyed and some even fallen to the ground completely. Citadel is a map that has a setting of a dark place. This map gives players the feeling of creepiness and goose- bumps. The map is filled with fog in the air and a dark sky. Overall, the zombies.
Leave a Comment