Fright Dome brings bone-chilling scares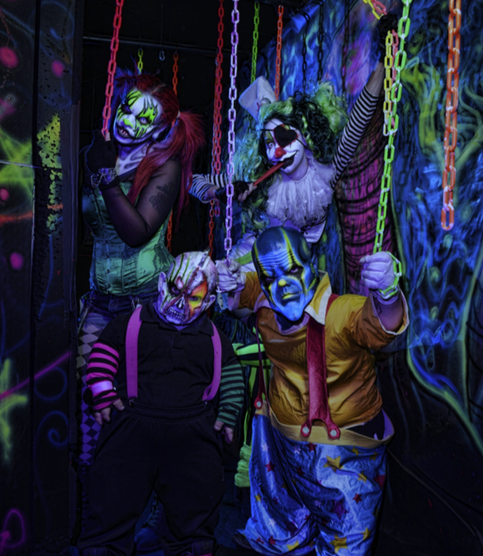 As the month of October comes to an end, so is the opportunity to visit Las Vegas' annual Fright Dome theme park. Fright Dome is a month long event that has taken place, since October 2003, in what is usually Adventure Domes area of Circus Circus Hotel and Casino. The event changes the entire theme of Adventure Dome and temporarily remodels it for the theme of Halloween. Fright Dome, however, isn't just an average theme park that just gets broken down and rebuilt.
Fright Dome delivers many unique and detailed attractions, from haunted houses rated the best in Vegas, to live shows running through- out the course of the evening. Visitors can still ride the standard Adventure Dome rides, which are still available in the dark during Fright Dome's run.
As for the attractions, there will be several new and several returning themes. In the haunted house department, there will be six brand new attractions, includ- ing a solo maze (Ouija Solo Maze).
The scare zones also have different themes as well, ranging from a freak show to live shows running most of the night. Another unique attraction this year will be Five Nights at Fred- dy's (a popular horror
game franchise) house, made in collaboration with the game's creator, making it stay true to the games. There will even be a 4-D panic house, letting visitors have a real-life experience.
Some of the highest rated attractions by workers are the Five Nights at Freddy's house, Krampus scare house, and the Voodoo Mardi Gras scare zone.
"This year I'm looking forward to the scare zones because they have pretty short lines and are really scary. They're for the thrill seekers I guess." said Christian, a sophomore. "I haven't been there before but I'm looking forward to going this year. I guess the ones I'm looking forward to the most is the Ouija Solo Maze" said Sophomore Gerardo Mendoza.
With all of this, cus- tomers have to consider when and if they want to go. Fright Dome is admittedly popular, making some nights busier than others. This makes for more expen- sive tickets on certain
nights than others, with all tickets starting at $36.95. The fast pass, which lets visitors cut any line, raises the price an additional $20.
Another thing to remember is the CCSD minor's curfew. All minors (individuals under the age of18) maybe in Fright Dome during its operational hours (7p.m to 12p.m.). However, they can't go out of the area without a parent or guardian alone after 10 p.m. Sunday through Thursday and 9 p.m. Friday and Saturday.
When asking students if they've heard of the curfews restrictions on them for the event, most of them were shocked.
"Wait, there's a curfew for us there?" said Christian. "It's not really a problem if you stay inside though so it's not bad"
With the new attractions to the rules and laws to remember, students should consider visiting Fright Dome at some point; the event has been titled as "One of the most extreme horror houses in the world" by the Travel Channel.
Leave a Comment