Mr. Harmon fights blind stereotypes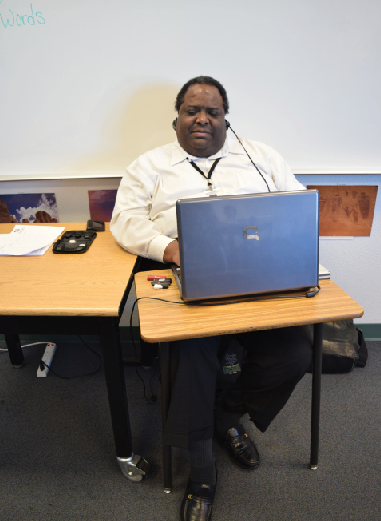 Mr. William Harmon has been teaching World History at Spring Valley High School for 10 years. Every day Harmon sits at the front of the room to take attendance before he launches into the daily notes. Though his class might look like a typical one from afar, Harmon is unique as a teacher in that he is blind, and uses his hearing to recognize his students.
Growing up in Amarillo, Texas, Harmon started losing his vision at an early age.
"It happened slowly so for a while it wasn't noticeable, but I did have a few intense moments." he said. "When I was fourteen, I was still able to see objects but I was no longer able to read. Even though I knew that it would happen, I was wondering how I was going to deal with things. But one good thing about it was my parents were very supportive. My parents were also blind so they helped me get through that part."
After losing his vision completely, Harmon attended Texas School for the Blind and Visually Impaired up until high school. Unsure of what he wanted to do, he was encouraged by his fifth grade teacher to teach others, but he was inspired by his eighth grade instructor to be like him, a funny and bright educator who always made the students laugh.
Harmon began his career at Texas City High School in 1989. For the next seven and a half years, he taught for visually impaired students, relating to their struggles while helping them with necessary subjects like geography.
"I thought it was time for a change," said Harmon. "I wanted to live in a bigger city and also teach more social studies. So I moved to Las Vegas in 1996 and worked in Special Education at Gibson middle school until 2007. From there, I came to Spring Valley."
Despite what many assume, Harmon explained teaching his students is not difficult, even with a vision impairment. Once he knows names and learns individual voices in a matter of weeks, there are no serious problems for him.
He also uses other resources to make educating easier. His favorite technology gadget is a computer that speaks to him every word he types through plugged-in headphones.
For the last five years, Ms. Amy Kosmin has been helping him with duties that he can not do on his own.
"I do everything that he can't do. As far as I do the grades, I grade all of the assignments, I take attendance every day and I also walk around the room to make sure that there are no phones out and cheating. It's been great actually, I learned a lot too, " said Ms. Kosmin
One of the most difficult things Harmon said he deals with, is convincing others that he can do everything they can.
Harmon said, "Well there are two things. People not believing what I can do. That has always been a problem to me and I kinda had a struggle with that. Also, people think that because I have a visual impairment, they treat me differently. They treat me as if I was a kid. They taught me like a kid and they're going to treat me like one. I'm a grown man and I keep telling them that."
Even with these difficulties, Harmon has learned to stay positive.
"Hang in there, we all have difficult things going on," Harmon said. "Even though I can't see, that didn't make my life any more difficult. If you ever need help and you can find someone who can help you, don't be afraid to ask for help. But certainly, don't give up and try everything possible to do what you want to do."
Senior Marcos Velazquez said he enjoys Mr. Harmon class because it is both fun and relevant.
"We discuss interesting topics about World History that concerns us," he said. "He gives a sense of humor along with teaching them while it being what we need to know.
Leave a Comment