"Reviewing" The Las Vegas Review Journal Workshop
On November 1, 2013 UNLV hosted a Las Vegas Review journal workshop for Las Vegas high school students. The students that attended the workshop went to multiple sessions of different types of journalism. These sessions were taught by people that work in those fields in the Las Vegas Review Journal. The students hand picked their sessions that they wished to attend. The workshop was very informative and was geared to those that were serious about journalism.
There were many types and forms of journalism available for the students to pick. There were simple sessions like how to write a news story and how to write a lead.There was also sports writing and creating your own website. In the beginning of the workshop, students were given a folder and a notepad to take notes and receive papers from their sessions.
Professionals that work at the Las Vegas Review Journal taught all of these sessions. The sessions were about 50 minutes each and each student had three sessions. Not only were there people from the Las Vegas Review Journal but, there were professors from UNLV, Nevada and BYU. The building that was used for this workshop was the newly built Greenspun-Hall building, which is used for journalism classes at UNLV.
To end the day, there was a raffle on the tickets that they gave you at the beginning. The prizes were all gift cards ranging from $10-50. The stores varied greatly from Barnes and Noble to Best Buy and Starbucks. This workshop is very successful or otherwise it would not be going on year after year.
Leave a Comment
About the Contributor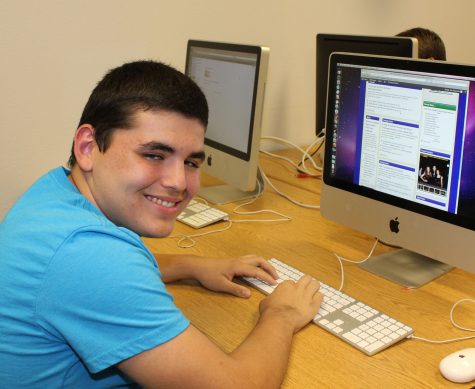 Alex Fotopoulos, Staff Writer
Everybody meet Alex. He is currently a junior at Spring Valley High School. He has a 2.8 GPA and he loves playing baseball. He is in mostly honors classes and his goal is to play in the Major Leagues. His baseball idol is Matt Kemp.

Outside of school he mainly goes to the gym and practices baseball. He hasn't lettered yet for baseball, but he's going to soon.

After high school, he is planning on attending UNLV and majoring in Journalism even though he could play baseball at any school in the nation, he's going to just do that and help UNLV win a National Championship in his first year in college.