From the Links to the Courts, Shawna Patterson Leads the Way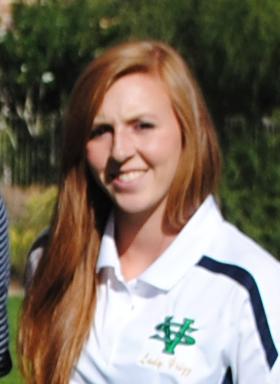 As she walks into the gym before any of her teammates to stretch and shoot around, she listens to her favorite jams looking around at the gym she has helped pack for four years now.
Shawna Patterson has been a member of Spring Valley athletics since she stepped on campus her freshman year. As she gears up for another anticipated season of Lady Grizz basketball, she hopes for nothing but the best for her squad.
"I expect us to play tough and with a lot of energy this year," said Patterson.
Patterson has great chemistry with her teammates; especially the ones that have been around for the long journey just like her. As the young guns step in with little experience, Shawna is there to guide them.
Patterson isn't only a basketball player but a very talented golfer. She is also on the varsity golf team and one of the top golfers for Spring Valley.
Playing multiple sports has helped Shawna out tremendously because it has taught her how to become a better team player and a better person off the court. "I have became a more responsible person, with juggling golf, basketball, and taking top classes," said Patterson.
"I feel there is a sense of pressure on me but more of a relax pressure because we are here to have fun, work hard and get a "W" ( a win)," said Patterson.
"Shawna has really grown as a person and a basketball player since freshman year," said Coach Jeremy Raih.
Coach Raih expects Shawna to lead the Lady Grizz to many victories and to only better herself throughout the long, painful season.
"She's our leader, our driver. How she plays will determine how the whole team plays," said Coach Raih.
Coach Raih said that it's  been a great thing to see a player with so much talent grow into a mature responsible young lady.
"She has a bright future," said Coach Raih.
Her teammates love her. "She makes me play with a different kind of intensity when I'm on the court with her," said teammate Krystal McKnight.
The drive and dedication Shawna brings to every game and practice just rubs off on the other players and that's why the Lady Grizz expect to have a better season than last and to give their fans a show every game.
Leave a Comment