Spring Valley Makes Graduation Changes
Both the Clark County School District and Spring Valley High School have made some different changes regarding graduation regalia and overall high school graduation requirements. Spring Valley brought together a senior committee, including the principal, teachers, counselors, and even some senior students to change the current graduation regalia for students.
In previous graduating cohorts, there have been different ways in order to represent what programs, clubs, and even electives students have taken over their four years. There were three different gowns students could receive based on whether they were in the IB [international baccalaureate] program or completed the advanced honors diploma. As well an assortment of different cords and stoles students can receive based on their electives, clubs, and sports. 
Now, with gowns, all students will be in one gown. These changes don't go for just gowns, they also go for cords and stoles. Now there are two different stoles, one white to represent the Advanced Honors diploma and the being gold to represent the IB diploma. There are different cords to represent the Advanced diploma, college and career ready diploma, CTE [career technical education], AVID, athletics, performing arts, and clubs and organizations which have their own chords based on the advisor. All of these changes were due to the amount of problems administration would face when it came time to distribute all of the regalia. 
"Part of the problem was, some kids wouldn't know until the very last minute if they were originally white or blue because of grades coming in," said [title] Amy DeVaul. "And then when that extended to Ib some kids, because they didn't finish an IA or their CAS or whatever, we had to pull their gown at the last minute and give them a white gown." 
Another one of the problems was the confusion that counselors face when it comes to giving students cords and stoles. In previous years, there were students who had too many cords. The school wanted to streamline the different types of cords students could receive. 
"There was no criteria for anything with that [cords and stoles]," said principal Tara Powell. "We had to figure out what the requirements are and what really needs to be discussed with clubs." 
For the school district, there are changes with policy 5127, which is high school graduation requirements. The cohort of 2025 and beyond will no longer offer the Advanced Honors and Advanced diploma to students. As well, for the cohort of 2024 and beyond there is a cap GPA [grade point average] of 4.95 to students. 
Many students used these previous regalia as an external motivation to take challenging courses or complete difficult programs. As well, the senior committee thought of the different circumstances students could face throughout their four years of high school.
"The other thing we realized is sometimes kids were only taking courses for the white or gold gown, which didn't sit well with us," DeVaul said. "We also looked at the different circumstances of students. We didn't want to say one person's achievement was greater than the other. It was about getting to the finish line, which can be different for everybody."
Leave a Comment
About the Writers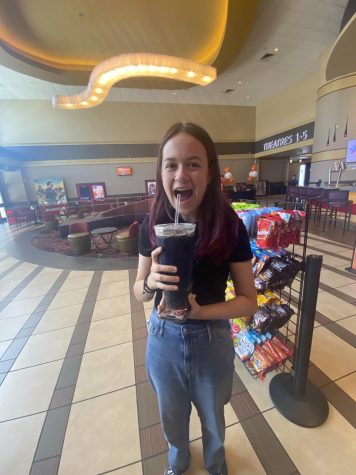 Alex R., News Editor
Hi! My name is Alex and I am the News Editor for the Grizzly Growler. This is my third year in the journalism program. I love reading and listening to all kinds of music. I am super excited to bring a bunch of stories including news, entertainment, and opinion. You can add me on instagram @koolcidalex and if you see me in the hallways don't be afraid to say hi!
Alaizza Romero, Editor-in-Chief
Kamusta! I am Alaizza, currently the Editor-in-Chief of The Grizzly Growler! I'm a Junior in the IBDP, and I absolutely ADORE reading, music, environmental facts, and 5 Seconds of Summer (ofc). And, I am a fellow Model UN(er)! I am truly excited to get to know even more people around campus this year. Hmu if you want book recommendations...I have plenty:)