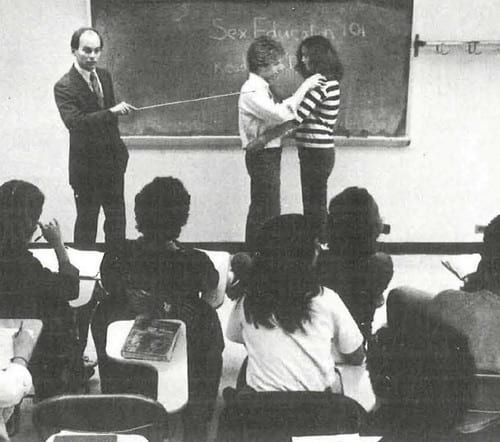 The Teachings of Sex Ed
On May 2nd was the 74th annual Met Gala with beautiful gowns and art showcased on all media throughout the night, yet there was something else that stole the spotlight. There was a leak of government documents holding information about the possible future decision of overturning Roe v. Wade on the Politico news website. Roe v. Wade concerns womens' healthcare and autonomy to have an abortion. Further controversies and opinions have spurred from both sides of the political world, concerning rights for women and the possible consequences of officially overturning the right of abortion to the states. 
"I'm angry because politicians are trying to control womens' bodies when majority of male politicians are not the ones to carry the pregnancy and want to illegalize abortions in parts  of the United States," sophomore Jenna Acklin said. 
"If the law does get overturned, I don't think it's going to prevent anybody from having abortions, people are going to try and do things that are dangerous to their bodies to get away from an unwanted pregnancy," sophomore Neveah Racut said.
             The teachings of Sex Ed reflects on the preparedness of sexual activities. Normally sexual education in the United States is taught in middle school as a course, though only 30 states mandate sex ed while 20 states do not. According to news magazine, In These Times, 28 states do not mandate medically accurate sex ed in schools. 
According to the Nevada education system an informative lesson is taught in majority Nevada elementary schools to the 5th grade class, where students learn about puberty. Boys and girls are separated to learn about their anatomy and how to take care of themselves. Then, students revisit sex education in middle school in their 8th grade year. Students can only take the lesson with the consent of their parent(s). 
"I learned about the basics about periods and puberty, but not in depth and the teachers just handed us a pad and a small stick of deodorant," Racut said. 
Later on in eighth grade, students actually learn about sexual education. However this time, the students aren't separated based on their sex. The usual subjects that are taught in sexual education is pregnancy, STDs and STIs, hormones, both reproductive systems, and abstinence. Still parents have to consent to allow their children to take the course. 
"Since COVID happened, I wasn't able to take Sex Ed for the second semester of eight grade because once the course started, school got shut down," sophomore Hunter Sarver. "We were taught Sex Ed online, but I bet no one did the work and the teachers didn't care." 
Students are given a consent form for their parents before the start of the sex education unit. Within the unit students are taught with the use of notes, videos on sexual abuse/trafficking/puberty, human body diagrams, and more. 
"The teachers would put medical photos/diagrams on the screen to show us about anatomy," sophomore Robert Chandler said.  
In Spring Valley High School, a summer- school course about health is required for all students to take in order to receive credit. The course is through APEX, a virtual learning school for credit retrieval that offers interactive and standard-aligned courses. In the health course, sex education was one of the topics discussed with articles to read from along with activities to fill out for participation. 
"In freshman year of high school, they had us take an online course, so it wasn't really taught to us because we just read off a computer," Acklin said. 
According to the Centers for Disease Control and Prevention (CDC), sex ed should provide students access to resources and services to prepare them for sex-related choices; HIV, STI, and pregnancy prevention should be taught as well. However, only 43% of high schools and 12% of middle schools follow those recommendations. 
"I remember about learning the anatomy, what happens when a sperm goes into the egg, STD's, but we really didn't talk much about consent as we should've," Racut said. 
The media can influence the way we portray certain subjects, such as sex. Being exposed to explicit sexual content at an early age can result in their development and portrayal of sex. The fantasization of sex can create unrealistic standards and encourage adolescents to engage in sexual behavior to see if it is actually like how the media portrays sex to be. Without the proper knowledge about sexual education results an unhealthy mindset of what sex should be like. 
"In the media watching sexual activities affects like your sex life because people will want to recreate what they saw, but it's not the same," Chandler said. 
In most sexual education courses, LBGTQ+ acknowledgement is hardly mentioned, only focusing on hetereosexual relationships and sexual activity. Queer and trans students needs are ignored even though they can experience unhealthy relationships, contracting sexual diseases and so much more. Discussions about gender, gender identity, and sexual orientation are also not taught in sexual education. The teachings of LGBTQ sex education allows for inclusive and comprehensive knowledge without facing prejudice. 
"LGBTQ sex education should be taught because a lot of kids these days are coming out and knowing who they are," Racut said. "If LGBTQ sex education was taught, it would make those individuals comfortable and acknowledged in the class." 
Abstinence is one of the effective ways to prevent unsafe sex, unwanted pregnancy, and contracting sexual diseases. In sex education, abstinence is typically more enforced on students than teaching them about other options while still being sexually active and safe. The enforcement of abstinence promotes judgment, fear, guilt and shame around sex. 
            "Abstinence was taught but the teachers never said 'Don't have sex!', a lot of students encouraged having sex in middle school just to get it over with," Chandler said. 
Traditionally, when a male loses his virginity, he is praised amongst his peers because sex is the right of way towards manhood. When a woman loses her virginity, she is often insulted or stigmatized because "she should have waited for marriage." The double standard for men and women is existent based around sex. With the proper education of sex, the shame/stigma around sex wouldn't be as prevalent in society. 
"There is a double standard because when a guy loses his virginity, his friends like to praise him; but when a girl loses her virginity, she is called insults," Sarver said. 
Spreading awareness about accurate sexual education is effective for not deciding unsafe choices and end up in unwanted consequences such as unwanted pregnancy. As the future of abortions is still up in the air, sex education can be the only way to prevent unsafe abortions.